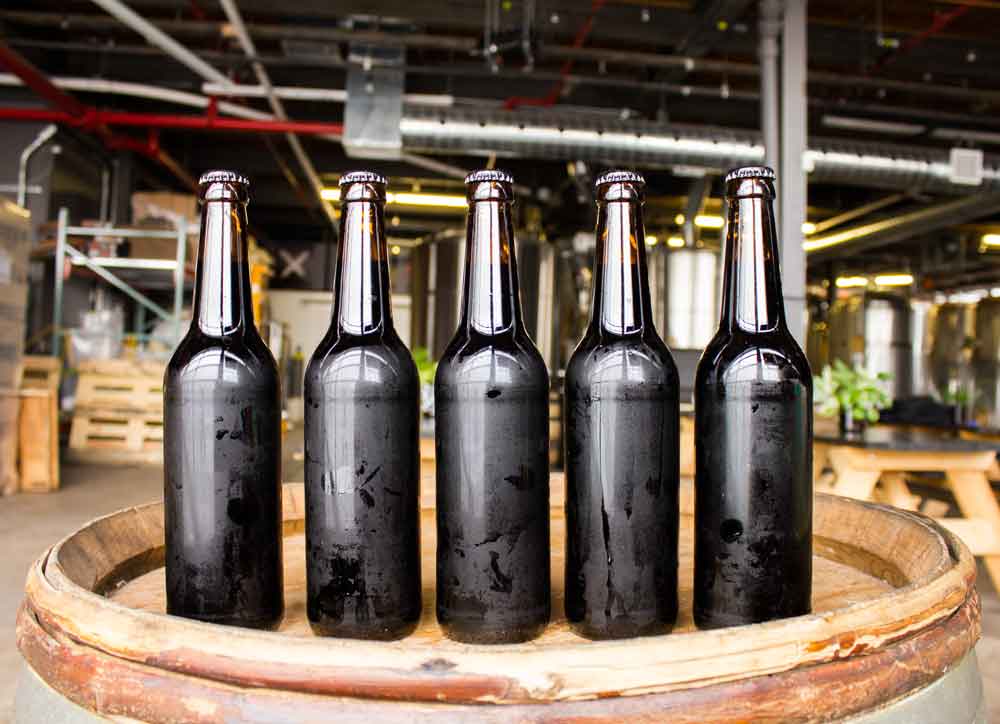 Hearts Collide 2019
Monday February 11, 2019
There are a lot of bad things about winter. The brewery only has one loading dock, beside the "office" with a space heater that is no match for last week's cold snap. Coffee becomes less a way to wake up and more of a way to stay alive. Thankfully, Joe from Morning Roast pops by pretty often.
There are also a couple of good things about winter. Here at Rainhard, we're serious about finding things to celebrate, including, but not limited to:
– The 25th anniversary of Green Day's Dookie
– Justin the Bartender's Dog Pam's Birthday
– Mal's ability to get through an entire psychological thriller on Netflix
– Kenny's burgeoning modelling career on the Rainhard Instagram account
– But, most importantly: Hearts Collide Day is coming up on February 16th, 2019.
Hearts Collide began as a big stout, named after a Green Day song that Jordan tells me "has some really unique riffs". 
That beer was then thrown in some barrels in early 2013, and its now the 3rd year of the bourbon barrel-aged variation on our favourite Imperial Stout. Last year we decided a couple of bourbon barrels weren't exactly where we wanted them to be, so we let them sit for an extra year and the results are guaranteed to warm you up. Bourbon Hearts #3 is aged to perfection.
This year we're excited to introduce 3 new variants in addition to the base beer and the bourbon variant.That's FIVE different versions of a beautiful, smooth, silky, winter warmer for you. 
– Hearts Collide, the OG Imperial Stout
– Bourbon-barrel-aged Hearts
– Bourbon Barrel-aged with Vanilla
– Rum barrel-aged Hearts
– Rum Barrel-aged Hearts with Morning Roast Cold Brew Coffee. 
We're pairing these beers with lots of snacking options. SOMA Chocolate will be here, full of suggestions about which of their handmade sweets go with which brew. Boro Bros BBQ will be serving up tasty Canadian barbecue (because who doesn't love bourbon and brisket?). They'll be here until sold out! 
Doors will open at Noon and beers will be flowing. Please note that barrel-aged Hearts will have a limit of 2 per person, per variant. No limits on the base beer.